`Harlem: Art and the Community
---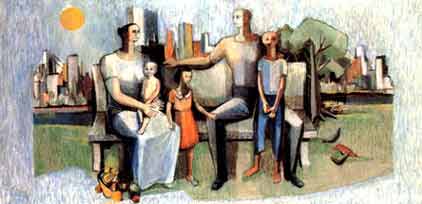 Family in Cityscape
Charles Alston, 1966.
Oil on Canvas 30x60''
Recognizing the idea of community in Harlem is essential to understanding the significance of Migration era art work. We can see the community as the subject matter of much of the art. This simple fact speaks to the importance of the community within African American culture. To the extent that they document the community,the artists begin to have an active role in creating


Street Musicians, 1940
William H. Johnson
Oil on Wood, 36x28''

and recreating the community. By documenting and portraying the community in a positive and powerful light, the artist helps to heighten community pride. By portraying everyday elements of Harlem and exploring the nuances of the city, the Harlem artists helped to strengthen the community sense and pride. Even the art that reflects the negative side of the community is important as a voice of protest. The art of Harlem both reflected and influenced the dynamic feel of this newly created neighborhood.


Children at play, 1939.
Morgan and Marvin Smith

Rooftops
Jacob Lawrence, 1943.
Gouache on paper, 14x21.75''

The art of Harlem speaks directly to the condition of Harlem. In the city the pains of life are often found next to the joy. These contradictions are beautifully portrayed in the art of Harlem.

306 W. 141st Street WPA artists' group, 1933.
Morgan and Marvin Smith

The artists themselves made up a tightly knit community. Many of them gathered at Adjust Savage's studio to learn or to converse at 306 west 141st in Charles Alston's studio. Here artists from Jacob Lawrence to Morgan and Marvin Smith studied with each other in what became known as the "306" group. This group who often were also WPA artists, helped to integrate the younger artists coming up from the migration with the already established northern artists. These groups aided the dialogue between the South and the North for the creation of the unique and dynamic art of Harlem.
---