Shortly after Morgan and Marvin Smith arrived in Harlem, they found work with the Works Progress Administration (WPA) performing manual labor. After settling in Harlem, the brothers began taking art lessons from Augusta Savage at her studio on 126th Street. It was through Ms. Savage that the twins came in contact with other prominent artists and began to connect themselves to the famed "306 Group." The talents of Morgan and Marvin Smith were first noticed by the public in 1937 when Morgan won an award for his photograph of a young boy playing hi-li. Robert Day, the young boy in the photograph, soon became the subject of other works produced by the Smith brothers. After 1937, Morgan and Marvin Smith decided to focus their photographic efforts on life in the Harlem community. Unlike many photographers of the time, the twins refused to document the misfortune that existed in Harlem during the 1930s. Instead, they turned their attention to the positive aspects of Harlem and its people.

In 1950, Marvin Smith left Harlem so that he could study under Romare Bearden in Paris. While in Paris, Marvin developed his skills in abstract painting and had the opportunity to meet and work with Pablo Picasso. During Marvin's stay in Paris, Morgan became interested in film and eventually became a sound technician for ABC. When Marvin returned from France in 1952, Morgan taught him about the film industry and Marvin became a sound technician for NBC. Once the Smith brothers began work in the film industry, they concentrated less on their photography. In 1968, Morgan and Marvin Smith closed their Harlem photography studio at 141 West 125th Street.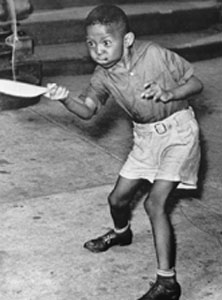 Robert Day playing Hi-Li, 1937.