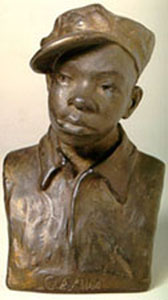 Gamin, ca. 1930. Augusta Savage.
Painted Plaster, 9x5 5/8 x 4 1/4 in.
Augusta Savage was born on February 29, 1892 in Green Cove Springs, Florida. Augusta knew at an early age that she wanted to become a sculptor. Unfortunately, Savage's father, a Methodist minister, disapproved of his daughter's love for art because he believed her creations were pagan. As a result, Augusta experienced periods in her life when she was unable to practice her sculpting. In 1915, the Savage family left Green Cove Springs and moved to West Palm Beach. It was in West Palm Beach that Augusta realized that her future was in sculpting. At a 1919 county fair, Savage was given an award for a group of her sculptures and was inspired to become a professional artist. Soon after her success, Augusta Savage moved to Jacksonville, Florida in search of work as a sculptor. Like so many blacks living in the South around this time, Savage's efforts to establish herself proved unsuccessful. In 1921, Augusta Savage moved to New York believing that the North would provide her with the artistic opportunity she desired; a belief shared by many blacks during the Migration era.


When Augusta Savage reached Harlem, it did not take long for her to establish herself not only as an artist, but also as a teacher. Most of Savage's sculptures, in some way, reflect an aspect of African-American culture. For example, The Harp was a sculpture influenced by Negro spirituals and hymns, most notably James Weldon Johnson's "Lift Every Voice and Sing." Ms. Savage was unique from other artists in that most of her sculptures focused on black physiognomy. This is readily seen in a sculpture of her nephew entitled Gamin. It was this sculpture that won Augusta Savage the Julius Rosenwald Fellowship in 1929 and the opportunity to study in Paris for one year. After returning home from Europe, Savage was ready to share he art with the Harlem community through teaching.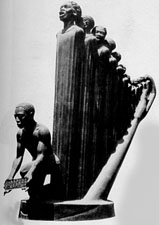 The Harp, 1939. Augusta Savage.
Cast Plaster.