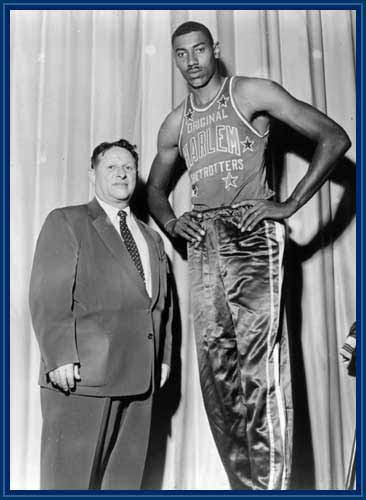 5'3 Abe Saperstein with Wilt Chamberlain
Abraham "Abe" Saperstein
The Birmingham Black Barons were not the franchise that made owner Abraham Saperstein rich but he was a good owner for the team. Five foot three Abe Saperstein's prize possession were the tall and lanky Harlem Globetrotters, a barnstorming basketball team out of New York; their play based around trickster-like antics. But Saperstein's Black Barons were no failure. They just failed in becoming the Harlem Globetrotters. The Globetrotters were a unique basketball team not just competing but playing the game playfully. They would tease both their opponents and the fans, sending the entertainment value of the sport skyrocketing.
Click Photo for more on Abe Saperstein
Cumberland "Cum" Posey
Cumberland'"Cum" Posey owned the Homestead Grays with affection. He gave birth to the only true dynasty in the Negro Leagues nurtured them, treated the Grays like they were his own which they were. Many owners enter the game as businessmen, never knowing what it was like to have been on the field, in love with playing baseball.
Cum Posey with the 1914 Homestead Grays (3rd from the left)
Click Photo For More on Cum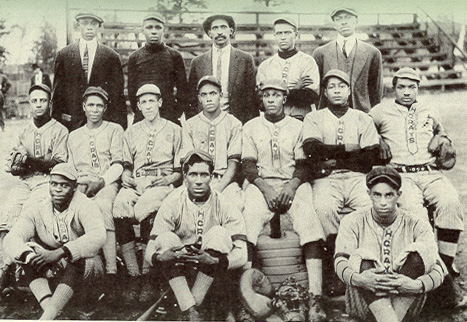 Click on image for more on "Mr Big"
Gus Greenlee
Gus Greenlee was known on the Hill as "Mr. Big," the man who could get
things done. He was a nightclub owner, a bootlegger, a moneylender, a numbers runner, and a political heavy. While he made great economic gains off of the people on the Hill, Gus also gave back. When people needed anything from groceries to rent money to college tuition, they turned to Gus.