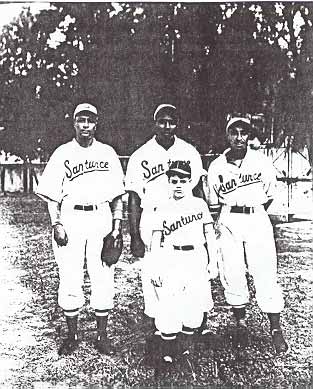 At the start of 1937, the Crawfords had a strong team and were on the verge of becoming a baseball dynasty. Little could they know the end of their team was near. That March, Rafael Trujillo, the chaotic political leader of the baseball-playing Dominican Republic, set his eye on recruiting Negro League players to play for his baseball team, an important tool of his political dictatorship. Playing winter ball in the Caribbean had been commonplace for a number of Negro League players, and many generally looked forward to this season because of the leisurely lifestyle and higher pay it offered. But prior to 1937, few conflicts over players had ever occurred between the Caribbean islands and the Negro League teams, primarily due to the island teams' lack of power and status compared to the Negro League.
More than any other player, Trujillo had his eye set on recruiting Satchel Paige to play for his Ciudad Trujillo club. Satchel initially hesitated to jump his contract with the Crawfords, a move which he knew would hurt his reputation, but Trujillo's men diligently pursued him and he finally relented after being tracked down. Satchel then recruited the help of teammate Cool Papa Bell, who then persuaded seven other Crawfords players, including Josh Gibson, Sammy Bankhead, and Leroy Matlock, to join them on Trujillo's team. Both owner Gus Greenlee and manager Oscar Charleston were furious. Greenlee unsuccessfully tried to have Paige barred from the Negro National League (NNL), and Charleston once grabbed an agent by the throat who he caught offering money to one of his players, ordering the agent to instead give his money to the whites. But despite their attempts to prevent such raiding of teams, neither Greenlee or Charleston could stop Trujillo from offering the Negro League players large sums of money to head south.


Satchel Paige
"Everybody back in the States was mad at us, especially at Satchel, because they believed we ran out on Gus Greenlee. I can't speak for the other guys, but I needed the money. I had to go somewhere to earn a living."
-Cool Papa Bell
These players left before the start of the Crawford's 1937 season, and the team folded by 1938. Although there is no denying the role that Trujillo's ball club played a role in the team's demise, opinions differ in regard to whether that Caribbean baseball season actually destroyed the team. But with their star players gone, particularly Satchel Paige and Josh Gibson, the team undoubtedly faced dire straits beginning the next season. After a dismal season in 1937, Greenlee insisted that he would remain involved in baseball and in charge of the NNL. But after many financial difficulties leading up to the failure of Greenlee Field, Greenlee resigned as the NNL's chairman in 1937, and resigned from the Crawfords two months later. His resignation printed in the Pittsburgh Courier had a tone of bitterness about the inability of a black franchise, particularly one that was so important to the community, to survive in Pittsburgh.
"Greenlee Field has passed into history, and we have no home grounds that we can control"
-Gus Greenlee, Pittsburgh Courier, 1937
A group of businessmen from Toledo bought the team franchise in 1938, but when they failed to field a team the next season, the Pittsburgh Crawfords dynasty officially ended, and the team faded into history.