Throughout the country, particularly in heavily industrialized areas such as the hills of Pittsburgh and the mills of Birmingham, the "Pittsburgh of the South", industrial teams grew up a way for companies to exercise corporate paternalism. Emphasizing team unity, talent and the cooperation within a team, baseball became an important ritual, arguably the most important factor holding the mill communities together. Important to emphasize, the teams were segregated, representing the mill communities and southern society at large in their make-up. In replacing "hanging around" time with structured forms of recreation, time spent playing baseball also increased the players' sense of loyalty to the factory, while teaching the values the companies wanted to encourage in their workers; self-control, respect of authority, and the ability to cooperate.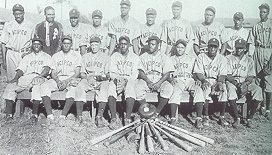 An early photograph of the industrial team soon to become the Homestead Grays.
It is important to acknowledge that while they existed, the industrial baseball leagues played a central role in the black community. These teams provided entertainment, unity and a sense of pride for the black working-class communities. Moreover, these teams provided a sense of self-worth to black ball players. Blacks claimed a certain symbolic and real power through identity as baseball players.
"Baseball was about the only aspect of industrial life in which black labor not only knew the score, but actually stood a chance of coming out on top."
-The late historian Chris Fullerton