Tuxedo Junction
"There was nothing but clubs and bars all up and down the street. Mama didn't allow us in Tuxedo Junction!" –Lelar Spears, resident of Birmingham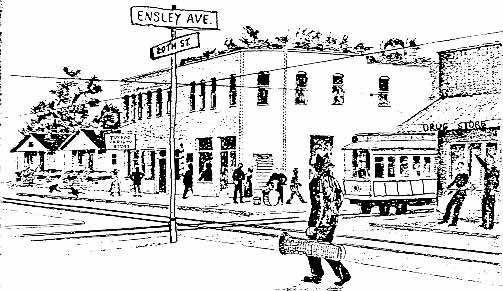 Tuxedo Junction, c. 1920
The intersection of Ensley Avenue and 20th Street in the Ensley area of west Birmingham was once home to the famed Tuxedo Junction, the heart of social life for the black populations of Birmingham and the surrounding areas. Where the Pratt City and Wylam streetcars once stopped to turn around, there stood a plethora of bars, clubs, jukeboxes, and stores. It grew from a small commercial district in the 1910s to a booming center for black nightlife in the 1920s, 30s, and 40s. Because it was located at the end of two heavily-traveled streetcar lines, Tuxedo Junction became a popular after-work destination for commuters. Its popularity soon spread, and people came from miles around to dance, listen to music, and "jive." It was "just about the only place negroes could go to dance then," according to F.A. Simpson, another resident of Birmingham. Many musicians began their careers playing in Tuxedo Junction.
Erksine Hawkins
Jazz musician and Birmingham native Erksine Hawkins celebrated the area's night life in his song "Tuxedo Junction." When Hawkins first wrote the song in 1939, he intended it primarily as a filler on the flip side of an album for the song "Gin Mill Special." However, the song far surpassed "Gin Mill Special" in popularity, and Hawkins, living in New York at the time, added the words which immortalized his hometown.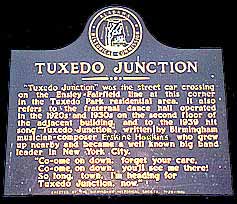 This plaque hangs on the corner of Ensley
Avenue and 20th Street today
Although Tuxedo Junction is no longer the thriving place it once was, its legend still lives on today.
Legend has it that the area got its name from a clothing store located just down the street from the main pavilion where the bands would play. According to the legend, partygoers would emerge from the streetcars wearing their work clothes, unacceptable attire for the majority of clubs in Tuxedo Junction; Mayor Quitman Mitchell of Bessemer remembers "people would put on their best to go" when they went to Tuxedo Junction. A clothing store in the area would rent tuxedos to those who were not properly dressed. These people would, in turn, trade in the clothes they had on as collateral. Thus, the area came to be known as the streetcar junction where a person could get a tuxedo; the tuxedo junction.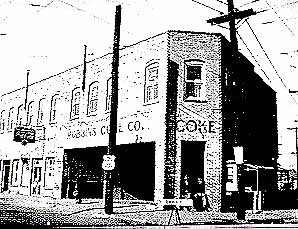 Tuxedo Junction, c. 1938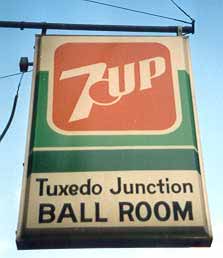 A sign hanging in the area of Tuxedo Junction , January 2000