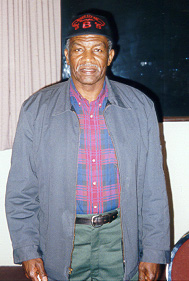 Rendon Marbury following our interview at Rickwood Field.
While in Birmingham, we had the pleasure of meeting both the Marbury brothers and learning about their experiences in the Negro Leagues. Rendon Marbury, who played for the Birmingham Black Barons in 1956 and then the Indianapolis Clowns in 1958, said that his grandfather prepared him for a Negro League career by "drilling" a baseball ethic into him. Growing up in Leeds, on the western edge of Jefferson County, Marbury had experiences with industrial baseball throughout his youth. After beginning industrial work as a teenager, Marbury began to play baseball for the American Cast Iron and Pipe Company (ACIPCO) baseball team. It was from this team that he made the jump to the Black Barons in 1956. The 1950's were peak years for the Birmingham Black Barons and Rendon was an important part of that team, primarily as a 2nd baseman. Although his career in the Negro Leagues was brief, a short period of time within his long industrial league career, Marbury has many memories of his professional career. He also recollected some differences in his experiences of race in baseball in the South as compared to the North. For instance, he and his teammates received better treatment, including better food and accomodations, while traveling in their bus, "Big Red", in the North than in the South.
"Those guys were as good as any major league players."
-Rendon Marbury on Black Baron teammates Jesse Mitchell,
Ortho Bailey, and Jim Williams, among others.


Joseph Marbury, a right-fielder who had a brief but noteworthy career in the Negro Leagues, also played the majority of his baseball career in the Industrial Leagues, playing for major Birmingham companies like ACIPCO and Lovman and Lovick Industrial. He was recruited by the Memphis Red Sox while he was still in high school, but his first and primary experience in the Negro Leagues was not until 1957, when he was recruited by the Indianapolis Clowns. Similar to his brother, Joseph Marbury remembered vividly the differences in baseball in the North and South. In the North, he felt he was treated well by people and society at large, which he described as being "a relief". He stated, "It made you feel good, like a real person". In the South, however, he remembers having to search for accomodations while on the road because there were no hotels that would sleep African Americans. He remembers his team once spending four nights in a nursing home because there was nowhere else to stay. Overall, however, Marbury describes playing professional Negro League ball as a very positive experience. He stated that being a poor black youth from the South, baseball gave him opportunities he would have never otherwise been given. He is especially grateful for the opportunities to travel all over the country, meeting and playing baseball with all different kinds of people.
"Baseball was my first love"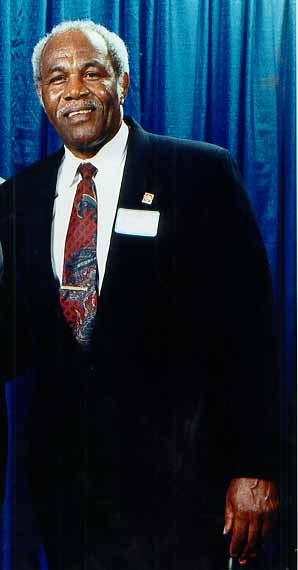 Joseph Marbury at the Hall of Fame induction ceremony.