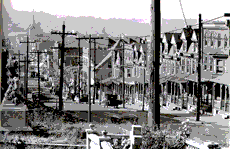 Welcome to the Woman's Page.
This is a forum for many of the issues important to women during the Great Migration. Because issues that directly affected men, like work conditions and social activities, often received frequent coverage during the Migration, the Woman's Page devotes itself to discussing the cultural influences that were integral to shaping women's lives during this dynamic period. If you are interested in learning more about the development of women's cultural history throughout the various stages of the Migration, click on the links below.
First Woman Intern at Tuskegee
TUSKEGEE INST., Ala., July– (ANP)–
The first woman intern to be received at the John A. Andrew Memorial Hospital, Tuskegee Institute, reached the campus Friday, and was initiated into the hospital routine, July 1. She is Dr. Edna L. Griffin, a 1934 graduate of Meharry Medical college, Nashville,. Dr. Griffin is a graduate of Philander Smith college, Little Rock, Ark., and her home is Fort Smith. Dr. Eugene H. Dibble, medical director of the hospital, described himself as particularly hopeful for a more effective type of service with this addition to his staff, as Dr. Griffin largely work with the young women students who come to the hospital.